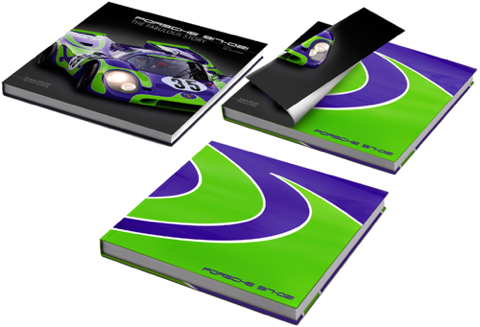 Forty years in the history of the Porsche 917-021 described by an enthralling investigation that includes a journey to the heart of deepest Germany, trips to Stuttgart and Hamburg as well as the Black Forest, the Moselle region and the Rhine!
In 1970, 917-021 raced at Monza, Spa-Francorchamps, the Nürburgring, Le Mans, Hockenheim, Watkins Glen and Kyalami in the Endurance World Championship and the Interseries. Read all about its victories and its two lives!
Piecing together the story of this car led to meetings with exceptional people including Gijs van Lennep, Bobby Rahal, Kurt Ahrens, Gérard Larrousse, David Piper, team managers Hannu Kahi (AAW team), Hans-Dieter Dechent (Martini Racing team) and Porsche engineers Walter Näher and Herbert Staudenmaier. Discover the history and the technical secrets of its legendary 180° V12 engine, the car's soul.
Also pictured are its liveries and decorations starting with the classic red and yellow Shell paintwork and finishing with the two psychedelic colour schemes that marked its 1970 racing career. This book also describes the meeting with Joachim Grossmann, the only other man (with Count Rossi) to have registered a 917 as a road-going car!
The story of the Porsche 917's exceptional restoration and its return to the track will give the reader never-before published insights into one of the greatest racing cars in the history of motor racing!
Contact : info@917-021.com